Warmly celebrate the successful acceptance and delivery of BOEEP new plant
Views: 3 Author: Site Editor Publish Time: 2020-06-30 Origin: Site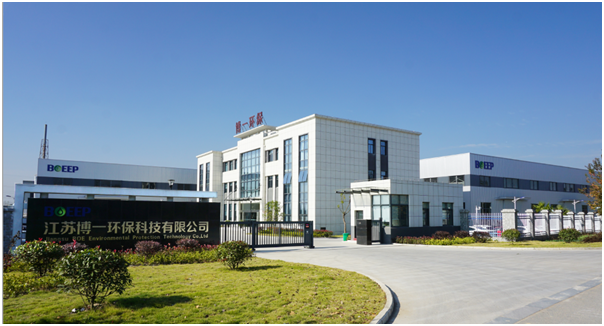 Recently, with the joint efforts of the design unit Jiangsu Construction Engineering Co., Ltd., the construction unit Jiangsu Hanjian Group Co., Ltd., the supervision unit Yangzhou Jianda Engineering Construction Supervision Co., Ltd. and the planning, exploration, testing and other units related to the project construction, and with the strong support and concern of the government leaders, BOEEP new plant construction project successfully passed the completion acceptance.
BOEEP new plant construction project started on August 20, 2019, and overcame the impact of epidemic situation. The overall project construction period lasted for 11 months. With the joint efforts of all parties, the construction of office building, plant 1, plant 2, Plant Road and greening was successfully completed, which met the requirements of design planning and construction quality acceptance specifications, and reached the completion acceptance conditions Through the owner and government related project completion acceptance procedures, meet the delivery conditions.
BOEEP new factory is located in Yangzhou Environmental Protection Technology Industrial Park, Hanjiang District, Yangzhou City, covering an area of 22000 square meters and a construction area of 13000 square meters. It is a modern environmental protection factory integrating R & D, design, production, storage and sales.
Factory gate
office building
workshop-1
workshop-2
With the successful completion and operation of the new plant, the hardware image and brand strength of BOEEP company will be greatly improved, the company's production capacity and delivery capacity will be improved, the company's current production situation of short supply will be alleviated, and the customer demand will be better met.
At the same time of planning and construction of the new plant, the company has introduced the leading domestic management consulting and information service institutions, and introduced the leading PLM R & D management platform, customer management system CRM and enterprise resource planning ERP for the company in batches. In the future, with the new plant put into use, the company will introduce intelligent logistics and MES intelligent workshop in the plant, greatly improve the whole process management and control level of R & D (R & D), PM (Manufacturing), QC (quality control), WM (warehouse management), so as to realize the synchronous upgrading of the company's management level and manufacturing strength.
With the completion and operation of BOEEP new plant as an opportunity, all BOEEPemployees will continue to do their best, adhere to the values of "integrity, innovation, win-win cooperation", keep forging ahead and innovation, build the company into a "famous environmental protection equipment manufacturing and engineering service enterprise with leading technology", and devote themselves to continuously serving employees, customers, suppliers, companies, shareholders and society It will create value and realize green and sustainable development of all parties.