IE Expo Guangzhou 2019 BOEEP Successful Exhibition
Views: 18 Author: Site Editor Publish Time: 2019-09-24 Origin: Site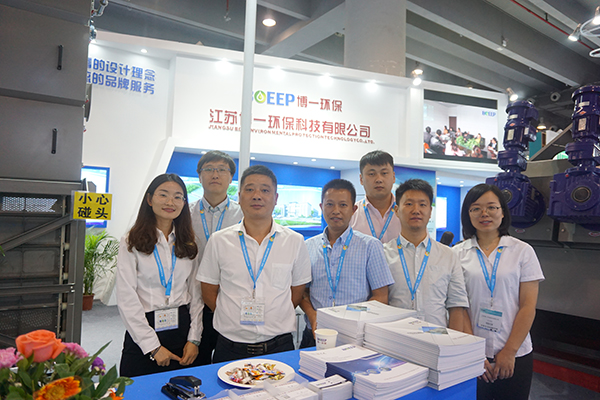 On September 18, 2019, the 5th IE Expo Guangzhou 2019(abbreviation: Guangzhou Expo) located in the China Import Trade Exhibition Hall (Canton Fair Exhibition Hall), opened a grand opening, which enlarge the scale to 38,000 square meters and gathered nearly 600 environmental protection companies. It is an environmental rally taking root in southern China.
BOEEP as a professional manufacturer of sludge sewage treatment equipment was invited to participate in the event and brought three major products to the booth 9.2 /E22.
The 5th IE Expo Guangzhou 2019 opens at the China Import and Export Commodity! A grand opening ceremony was held at the scene. The crowd was full of people came together from the industries.
IE Expo Guangzhou relied on the influence of the China IE Expo in the Environmental Protection industry in China for 20 years and the Guangdong Provincial Environmental Protection Industry association for more than 30 years has gained a rapid development.
When the exhibition just kicked off, the manufacturer of sludge sewage treatment equipment--BOEEP booth site 9.2 /E22 has attracted a large number of spectators.
Many visitors consulted eagerly about the screw type sludge dewatering machine, heavy belt sludge dehydrator and center flow band screen.
BOEEP service team showed excellent outlook at the exhibition and patiently introduced the products and technology to the customers.
The intensity of the scene is clearly, we have received more than a thousand of people at the booth in past three days. Our professional team answered customers' questions patiently and comprehensively. Brilliant design philosophies and first-class customer service are always our own requirements and we 've been always holding on.
During the exhibition, Mr. Huangzhiyang general manager of Jiangsu BOE Environmental Protection Technology Co., Ltd., accepted an exclusive interview with the Environmental Protection online platform and described Jiangsu BOE environmental development history and future plans.
Jiangsu BOE Environmental Protection was established in 1995 with more than 20 years' history. The company's core technology is related to sewage treatment and sludge treatment. Including high-efficiency solid-liquid separation technology, high-efficiency sludge dehydration technology and so on. At present, the company has obtained nearly 30 patents, including 6 invention patents. The main products are all high-tech products.
With the state attention to environmental protection, enterprises and people's awareness of environmental protection has increased. These years environmental protection market has led to a explosive development. In this condition, BOE environmental protection has also achieved a rapid development too. The average annual growth rate has reached more than 35 %, and the export has increased year by year too. At present. The products have exported to more than 40 countries and regions, which has been widely recognized and approval by various countries' customers.
The exhibition is only 3 days, but our services and solutions will keep pace with the times and will continue to bring better sewage solutions in the Environmental Protection field in future.