BOEEP ECWATECH 2018 Exhibition in Moscow a tremendous success!
Views: 20 Author: Site Editor Publish Time: 2018-10-16 Origin: Site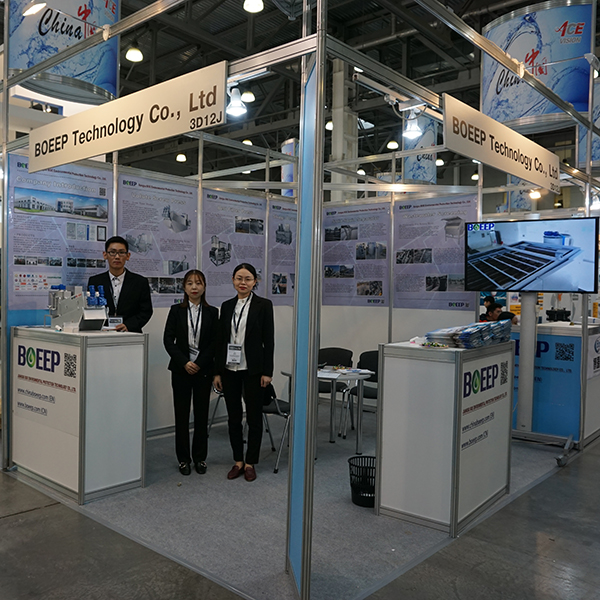 BOEEP made a successful exhibit showing products with advanced technology and company video introduction.
ECWATECH 2018 was held in Moscow from Sep.25-27 2018 as the leading water forum in Eastern Europe, represents the whole range of equipment and services for the rational use, restoration and protection of water resources, water treatment, municipal and industrial water supply, wastewater treatment, construction and operation of pipeline systems, water bottling and other issues of water sector development.
The conference provided an opportunity to show our sludge dewatering and wastewater screening machines along with key advanced process design and technology upgrading by BOEEP.
During the time, the customers from Mongolia, Turkey, CIS countries and even other European countries had a strong interest in our own technological innovation Volute Screw Press and High Duty Belt Filter Press, which are widely applied for petroleum, medicine, biochemical, beverage, food, textile, printing, dye and other industries. In addition, we provide targeted product solutions and corresponding technical guidance for different projects with industry characters.
In addition, our wastewater screening machines attracted many customers. Because of its variety, low failure rate and durable quality, BOEEP wastewater screening line products have a good reputation not only in domain but also in overseas market. Our technicians provided real-time solutions and technical guidance to visitor's technical questions at he scene.
The large number of visitors, the numerous contacts and many constructive discussions during these fair days is a confirmation of our work and provides us motivation for the future.
Thank our regular clients for coming to our booth without regarding the long distance to give us a real feedback of our products and affirm our work. Thank your for your support!
BOEEP always adhere to the inspiration of envision and create innovative solutions in the areas of sludge treatment and wastewater treatment.