Good news! BOEEP New Plant Construction Plan Officially Started!
Views: 13 Author: Site Editor Publish Time: 2018-10-23 Origin: Site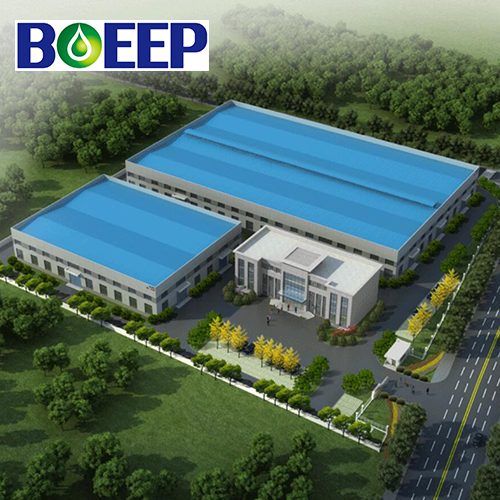 Jiangsu BOE Environmental Protection Co., Ltd. as a professional environmental protection equipment manufacturer and engineering service enterprise, we research, develop, design and produce high-quality environmental protection equipment such as Volute Screw Press, Belt Filter Press, Polymer Preparation Unit, Wastewater Screening Device, Sludge Scraper and other sludge & wastewater treatment machines. Especially BOEEP Volute Screw Press and Belt Filter Press equipped in the sludge dewatering room as the main products have become very famous, widely used, highly satisfied by customer.
After years of development, the company has undertaken sewage treatment equipment projects involving municipal, beer and beverage, breeding, slaughtering, oil, starch, food processing, petrochemical, medical, machinery, electronics, papermaking, electricity and other industries, and cooperated with leading brands in many industries.
With the further expansion of the market, the company's existing production capacity has been far from meeting the needs of customers. Therefore, at the beginning of 2018, the company formally decided to start the land acquisition, planning and construction of the new plant. After a series of negotiations and preparations in the early stage, with the completion of land purchase procedures during the National Day, the company's new plant planning renderings was also synchronized. BOEEP new plant planning and construction work was officially started.
Design of BOEEP Office Building
BOEEP new factory is located on the west side of the Central Road of Yangzhou Environmental Protection Science and Technology Industrial Park, covering an area of nearly 22000㎡. The new factory area includes high standard production plant, automatic production line, modern R&D office building, advanced equipment experimental center, quality inspection center, cool BOEEP exhibition hall and so on.
At the same time of the planning and construction of the new factory, leading management consulting and information service organizations are introduced into the company, which import advanced PLM R&D management platform, customer management system CRM, enterprise resource planning ERP, in-plant intelligent logistics, MES intelligent workshop and so on in batches. BOEEP whole process management and control level including the R&D (research and development), PM (production and manufacturing), QC (quality control), WM (warehouse management) is greatly improved.
The construction of the new factory and the introduction of various advanced management platforms achieve the overall improvement of BOEEP's soft and hard strength.
Overlooking of The New Factory Area
BOEEP new factory is expected to be put into use in the second half of 2019. The planning and construction of the new factory is a new starting point, and also a new journey.
All staff of BOEEP will take the new planning and construction of new factory as an opportunity, upholding the value of integrity, innovation and win-win cooperation, constantly forge ahead, strive to improve the company's R&D innovation ability and quality control level, create value for customers and soon realize the target of being a famous environmental protection equipment manufacturing and engineering service enterprise with leading technology.