Sludge Dewatering Technology
Views: 112 Author: Site Editor Publish Time: 2018-11-26 Origin: Site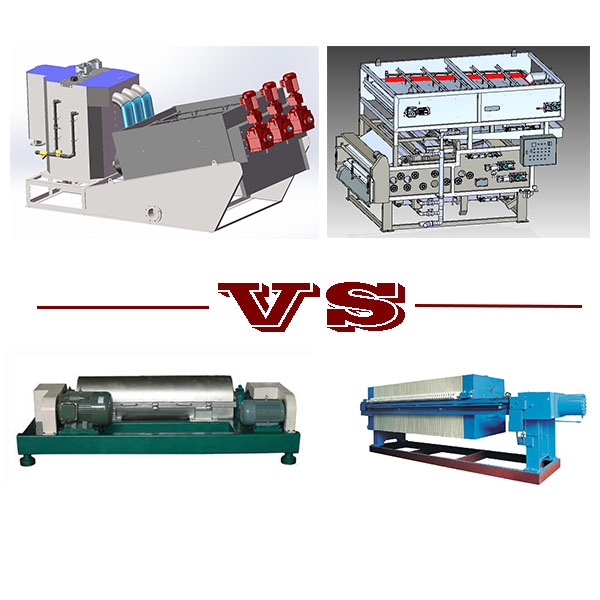 After sludge concentration process treatment, sludge is basically divided into solid and sewage liquids. Sewage treatment technology is used to complete sludge dewatering and sewage treatment. Traditional sludge dewatering technology is a natural drying method. This method has the advantages of low cost, simple operation process, long time-consuming, incomplete sludge dewatering, and many harmful toxic residues. But it is only suitable for dry areas.
But as far as the current market is concerned, several methods with higher utilization rate are screw press sludge dewatering method, belt press sludge dewatering method, centrifugal sludge dewatering method and filter press sludge dewatering method.
Dehydration principle

The main body of screw sludge dehydrator is made of multiple fixed annular plates and moveable annular plates with the screw shaft running through it. Dewatering is achieved by gravity concentration and pressure formed by the extrusion of sludge by backpressure plate during propulsion.

Advantages

Self-cleaning, non-blocking, direct dewatering of low concentration sludge, slow speed, power saving, no noise and vibration, automatic control, 24-hour operation.

Shortcomings

It is not suitable for sludge with large particle size and hardness, and its initial investment cost is slightly higher.
Dehydration principle

Sludge layer is entrained by the upper and lower tensioned filter belts and passed through a series of regularly arranged rollers in S-shape. Depending on the tension of the filter belt itself, the pressure and shear force on the sludge layer are formed, and the capillary water in the sludge layer is squeezed out, thus sludge dewatering is realized.

Advantages

The price is low, the current use is widespread, and the technology is relatively mature.

Shortcomings

It is easy to plug, needs a lot of water cleaning, and causes secondary pollution. It is not suitable for the treatment of oily and viscous sludge.
Dehydration principle

It is mainly composed of a transporter and a screw conveyor with a hollow rotating shaft. After the sludge is fed into the rotary drum by the hollow rotating shaft, under the centrifugal force produced by the high-speed rotation, it is immediately thrown into the hub cavity. Driven by screw conveyor, sludge is transported to the cone end of the drum and discharged continuously from the outlet. The liquid is discharged by gravity from the weir continuously.

Advantages

Large processing capacity

Shortcomings

It is difficult to maintain and manage because of its high power consumption, high noise and violent vibration. It is not suitable for solid-liquid separation with close specific gravity.
Dehydration principle

In the closed state, the sludge pumped by high pressure pump is extruded by plate frame. The water in the sludge is discharged through filter cloth to achieve the purpose of dewatering.

Advantages

Low price, good at dewatering of inorganic sludge, low moisture content of sludge cake.

Shortcomings

It is easy to plug and need to use high-pressure pump. It is not suitable for dewatering oily and viscous sludge. It is difficult to realize automatic operation of connection.
---
Here we will use a table to show the advantages, disadvantages and characteristics of each sludge dewatering machine.

| | | | | |
| --- | --- | --- | --- | --- |
| | Volute screw press | Belt filter press | Centrifugal dehydrator | Plate and frame filter press |
| Flocculant | Used | Used | Used | Sometimes used |
| Moisture content | Below 85% | Below 85% | Below 85% | Below 75% |
| Flushing water volume | Very little | A lot | Little | Medium |
| Solid recovery | About 90% | About 90% | About 95% | More than 90% |
| Electricity consumption | Very little | Medium | Very large | A lot |
| Continuous operation | Can achieve | Difficult to achieve | Possible to achieve | Cannot achieve |
| Maintenance | Simple and easy to operate, short operation time | Long operation time | Long operation time | Long operation time |
| Occupying space | Small | Large | Medium | Large |
| Vibration noise | Minimal | Have | Have | Have |
| Thickening tank | No need | Need | Need | Need |