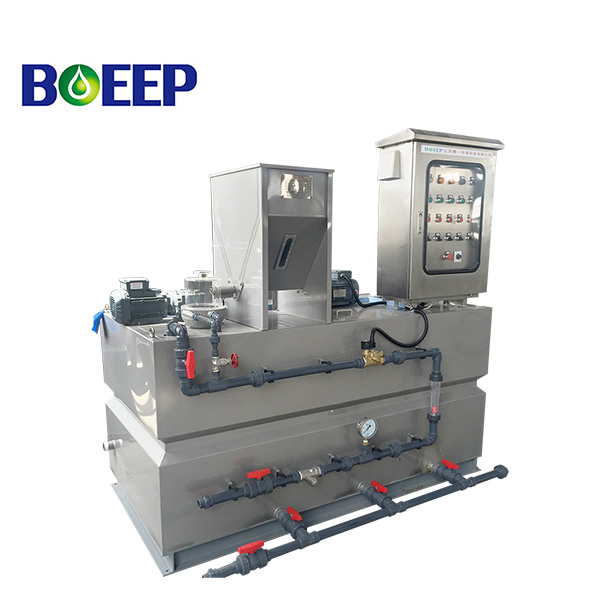 Polymer Preparation Unit
The function of BOEEP Polymer Preparation Unit is to make the flocculants of powder or liquid dissolve or dilute into flocculants solution.
Model selection: volume of Polymer Preparation Unit= absolute dry capacity of sludge in set time of dewatering machine * adding rate of flocculants * dissolving times of flocculants * continuous operation time.
Advantages
Full automatic operation including automatic dosing, dissolving and feeding.
The high precision transportation of dry polymer dosing device and the design of heater device can prevent the polymer from caking.
The dosage of dry powder and water can be adjustable, so the solution with any concentration can be prepared.
Optional: Vacuum feeding machine
Optional: on-line dilution system
Tank material: SS304 or SS316L, Polypropylene PP, FRP etc.
Technical Specification
Manual Dosing Device
Manual dosing, suitable for polymer feeding with small quantity, and needing operators at site.
Easy operation and installation.
The barrel body, polymer feeding pump, electric control panel, and pumps are all installed on the frame body, compact structure, easy transportation.
Tank material optional: SS304,SS316L, Polyethylene PE, FRP etc.
Technical Specification