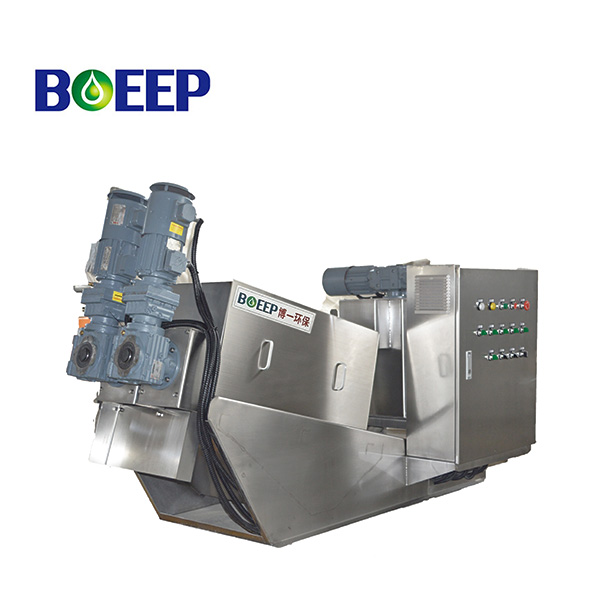 Compared with the traditional Volute Screw Dewatering Press, Screw Sludge Thickener is also advanced in the low operating & maintenance cost, dewatering performance, smell protection, low noise, stable operation, etc. The sludge from the secondary sedimentation tank can be condensed rapidly and continuously, and the sludge concentration can be adjusted between 90%-96% stably. The device has many advantages, such as no need concentrated tank, small footprint, and less cost. Furthermore, it can effectively reduce the releasing of odor & phosphorus caused by sludge concentrated tank, simplify the following treatment process and greatly improve the capacity of sludge dewatering and deep dehydration equipment.
Working Principle
Volute Screw Thickener mainly consists of concentrated body, driving device, filtered water tank, mixing system and frame, etc. During operating, the sludge is pumped into the mixing tank by sludge pump, meanwhile, dosing pump feeds the mixing tank with prepared polymer quantificationally. The sludge is mixed completely with the polymer by the stirring of motor in the mixing system, then flocculation will be produced. When the liquid reaches the level of liquid level sensor, the screw body will get into work, in which the sludge is being pressed. The thickened sludge will be discharged at the outlet gradually and the filtered water will come out between the fixed ring and moving ring at the same time.
All in all, Screw Thickener adopt the principle of screw extruding to thicken the sludge through the high pressure generated by the screw distance changes and small gap between the mobile ring & fixed ring.
Technical Feature
Large sludge concentration range, applied water content of sludge:98%-99.8%
The water content after thickened is 90%-96%, which can be adjusted stability
High efficiency, small footprint
No need filter cloth and high pressure back water rinsing, self-cleaning, clog free
Low rotating speed, low noise, low power consumption, compact design
Enclosed working, odor emission is controlled
Less wearing parts, easy to operate and maintain
Fully-automatic control, low labor need
Application
It is the pre-treat device of sludge deep dewatering, also as the auxiliary equipment of high pressure plate and frame filter press, membrane filter press, etc.
Instead of condensed tank, work as the pre-treat device of the sludge dewatering system.
Sludge Dewatering in the municipal & industrial wastewater treatment system.
Solid & liquid separation in the municipal & industrial wastewater treatment system.
Other wastewater treatment applications in the municipal & industrial wastewater treatment system.
Technical Specification